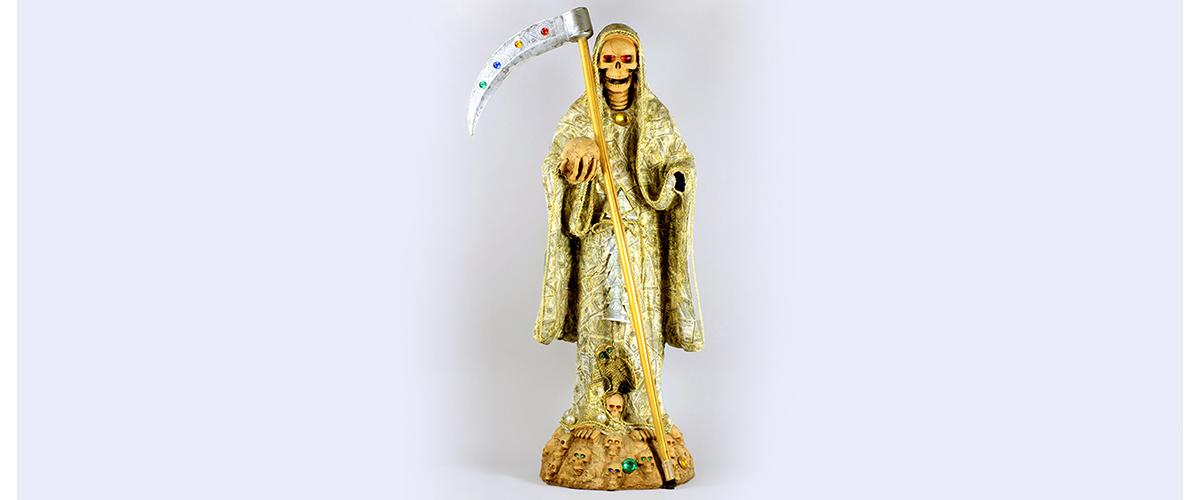 Dimensions:
15" L X 16" W x 42.75" H
Accession Number:
2012.12.1.a
La Santa Muerte (Saint Death) is a spiritual icon found among members of the Gulf, Sinaloa, and Juarez drug cartels. In Latin American culture, la Santa Muerte statues are painted with different colors to represent specific powers. This statue, seized in 2011 from two women transporting over 700 grams of methamphetamine between Arizona and Minnesota, was painted gold to represent economic power, success, and prosperity. The intimidating figure stands on a bed of skulls and is draped in a robe of faux-one-hundred-dollar bills and glitter. Fake gems pepper the statue and form its ominous red eyes. With a globe in one hand and a jeweled sickle in the other, the statue's symbolism of personal empowerment and terror appeals to drug dealers. Sometimes, drugs are hidden inside these statues. DEA agents broke the left hand of this one in search of additional contraband.
Click here to view this artifact's episode of "Stories from the Collection," a monthly video series on the DEA Museum's most exciting objects.