Harry Jacob Anslinger, 1892-1975
The Roaring Twenties
Anslinger transferred from Venezuela to the Bahamas before being appointed commissioner of the Federal Bureau of Narcotics. Enforcing Prohibition and deterring smugglers on the islands would inform his long career in federal drug law enforcement. 
Anslinger Versus the Rum Runners
Anslinger was unhappy with his assignment as vice-consul in La Guaria, Venezuela from 1923-1925. His wife and son lived in Caracas during the period so Joseph could have access to good schooling. Anslinger considered the experience a low point in his service in the diplomatic corps.
He was transferred by the State Department to Nassau, Bahamas in 1926. Anslinger was tasked to help address the problem of rum runners smuggling alcohol to American ports in violation of Prohibition laws. His solution to the problem—convincing British officials in London to accept greater responsibility and take a more active role in enforcement—got him noticed by senior leadership in the Treasury Department.
Anslinger's responsibilities included carrying out the provisions of the British agreement against liquor smuggling and to expand agreements to other countries. In his time there he secured additional treaties affecting smuggling from Newfoundland, Nova Scotia, Vancouver, Cuba, and Belgium.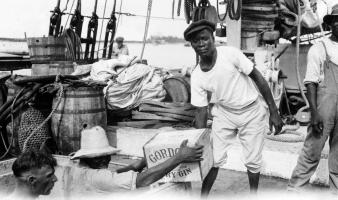 Loading Gordon's Gin aboard the Tomoka in the Bahamas, circa 1921. (Courtesy Mariner's Museum, Newport News, VA).
The Move to Narcotics and an Emerging Strategy
Promoted to assistant commissioner of Prohibition at the Treasury Department in 1929, Anslinger earned an annual salary of $6,500. In addition to overseeing Treasury's Narcotics Control Board, Anslinger suggested improvements to the Volstead Act, including better coordination among federal agencies and severe sanctions to deter and remind violators of their transgressions. It was a strategy he would adopt for the rest of his professional career.
Representative Stephen G. Porter (R-PA) sponsored the bill in 1930 which created the Federal Bureau of Narcotics (FBN) and the position of commissioner as its head. Colonel Levi Nutt, who had headed up the Narcotics Division of the Prohibition Unit, was mired in scandal over his son's connections to racketeer Arnold Rothstein. Anslinger was named acting commissioner and formally appointed to the post by President Herbert Hoover in September 1930. In ten years Anslinger had risen from the Consular Service at The Hague to commissioner of the FBN.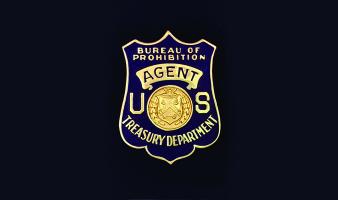 Treasury Department, Bureau of Prohibition, agent badge, circa 1920-1930. In 1930 the Bureau moved to the Department of Justice.
A Family of Writers
Anslinger drafted letters, newspaper articles, and even books throughout his life. He wrote this article for the Saturday Evening Post while working as consul (representative) for the U.S. State Department in La Guaria, Venezuela (1926). The year it was published, Harry was transferred to Nassau, Bahamas, before being moved to Washington, D.C., on loan to the Treasury Department where he remained for the rest of his career.
His adopted son, Joseph, kept a diary as the family traveled for Harry's work. The young boy chronicled his experiences in the Netherlands, Germany, and Venezuela.